With the line up getting progressively more crowded at our favourite local surf spots, it's becoming hard to imagine having consistent, fun waves with a manageable crowd. That's why so many more surfers are being drawn towards wave pools.  Although it doesn't quite compare to feeling the salt on your skin, being in the ocean and surfing the real thing – we find it very hard to resist the urge to surf the consistent, perfectly formed waves that the wave pools provide. We are happy to pay for this privilege and for our inner city folk these pools are becoming their local break.
Header Photo Credit: Ed West. 
The Wave, Bristol – Reopening on 29th March 2021.
The Wave in Bristol is reopening on the 29th March 2021, following England's third national lockdown. Photo Credit: The Wave. 
With the end of England's third national lockdown in sight and wave pools soon to be open again, we thought what better time to put our heads together and create this guide to surfing wave pools based on our own knowledge and experiences surfing artificial waves. Later in the blog, you can find our top picks for boards to surf in the lakes.
Here is a video with our summarised top tips for wave pools! 
---
Our first experience with man-made waves came in 2014 with a trip to The Wave Garden prototype in Zarautz, Spain. Since then, wave pools are something that have become more and more prevalent and we've been lucky enough to sample some of the world's finest pools, from the Surf Ranch in California to The Wave in Bristol.
Here is a clip of Justin, our shop manager enjoying himself at the Ranch. Video Credit: KS Wave Co. 
---
What to look for when choosing the perfect board to surf a wave pool:
In general, you are looking for a compact board with more volume. You want to opt for a slightly shorter board due to the surprisingly steep shape of the wave. This minimizes the risk of sinking the nose when taking off, unlike the ocean you don't have the luxury of catching the wave super early when it's less critical. The Wave in Bristol for instance is comparable to a good sandbank and the take off is similar to that of a harbour wall.
Turn up the Volume! Wave pools are less powerful than the ocean so you need the extra volume to make sure you don't get caught up in weaker sections. Fresh water is also less buoyant than salt water so a bit of extra volume is needed to offset the difference. You might think that surfing a wave pool is less demanding than the ocean but in reality due to the higher consistency of waves you actually spend more time surfing and moving around. A board with extra volume is going to take the strain off of your shoulders and keep you from getting too tired towards then end of your session.
We think a board with a slightly flatter entry rocker will help you get on the wave as early as possible, however we reckon a little extra rocker out of the tail will help you turn tight in the pocket. This is because you don't have the luxury of a long bottom turn like you would in the ocean, unless you stay close to the pocket you will lose speed rapidly.
We recommend any compact board with a decent amount of volume and a little kick in the tail. If we had to prioritise one characteristic we would advise you ride a board with a little more volume than you normally ride. We found that surfing in fresh water requires more volume in your surfboard as the pool has less bouyancy than the ocean. Wave pools favour shorter, wider boards to enable you to fit into a more compact, tighter pocket. We found surfboards that carry speed well and yet have enough rocker to handle the steeper part of the wave seem to work best.
---
Here are our top picks for the tub!
DHD Phoenix
The DHD Phoenix – can be seen in action in a wave pool here.
The latest model from DHD the Phoenix is an all out small wave performance shortboard that is perfect for UK waters. Darren recommends Riding the Phoenix 2-3 inches shorter than your everyday go-to shortboard.
Shop the Phoenix on our website here.
JS Bullseye
Occy's new step down, the Bullseye has been designed to offer maximum fun in small and weak conditions with it's generous amount of foam. Now in Hyfi technology for even greater small wave performance.
More information about the JS Bullseye Hyfi can be found on our website here.
JS Blak Box 3
The Blak Box 3 uses the same DNA as the rest of the boards in the Blak Box series, yet with a few changes to make it even more user friendly and favourable in smaller, weaker conditions.
More information about this board can be found here.
Firewire Seaside
After a couple of years of riding the Go Fish, Rob Machado felt there was room to develop the board into something more high performance, allowing for more carves and tighter turns. Taking the Go Fish, he's refined it with less area in the tail and narrowing both the swallow tail and the nose.
For more information about the Seaside, click here.
JS Black Baron
A board that balances old school speed with new school flair and technology. Designed and built to excel in smaller waves.
More information about the Black Baron can be found here.
Firewire TOMO Range
The Tomo shapes incorporate speed and performance in abundance. The multi concave bottom provides lift and projection down the line, whilst the refined rails and rocker throughout the boards provide a high performance feel in the pocket. Many throughout the range also pack a lot of volume in to small size, hitting all of the bases for high performance wave pool fun!
Left – Firewire Evo Surfboard (LFT) – More information can be found here.
Middle – Firewire El Tomo Fish Surfboard – More information can be found here.
Right – Firewire Hydroshort Surfboard (Helium) – More information can be found here.
Pyzel Gremlin
With lots of extra volume packed into a shorter, wider, flatter rockered package designed for quick acceleration, easily sustained speed and great paddle power. The Pyzel Gremlin make a perfect board for the tub!
---
What about softboards?
Modom Deadly Mondo
You can't go wrong with a modern softboard like the Modom Deadly Mondo: you get tonnes of volume, a surprising amount of performance and you don't need to worry about dinging it up on the concrete.
More information about these boards can be found here.
Drag Soft Boards
Drag soft boards come in many different shapes and sizes, including; longboards, midlengths and shortboards.
For more information about these boards feel free to contact us in store. Boards are coming in soon!
---
Here are some popular wave pools from around the globe!
The Wave | Bristol | UK
Photo credit: The Wave Garden
The Wave in Bristol offers a left and right hand wave for all abilities and fitness levels. The Wavegarden Lagoon technology can produce punchy waves, ideal for practicing turns and even offers a little barrel section on the Expert wave setting. The Wave is located just outside the city and is well connected to local motorways.
For more info on The Wave Bristol click here.
Surf Snowdonia | Wales | UK
Video credit: The Wave Garden 
Surf Snowdonia is located at the Adventure Parc Snowdonia which is positioned in the idyllic Welsh mountains. The technology additionally offers both a left and right hand wave, which offers sections to be ridden by both beginner and advanced surfers. At the Parc, there are other fun activities to get involved with too.
For more info on Surf Snowdonia click here.
Surf Ranch | Kelly Slater Wave Co. | Lemoore | California
Photo taken by shop manager Justin, on his trip to California.
Photo taken by shop manager Justin, on his trip to California.
The Surf Ranch, some 100 miles from the ocean offers a dreamy peeling wave with arguably the best artificial barrel section on the planet. The Ranch has now been added as a stop on the WSL world tour and is due to it's positioning in sunny California, it is commonly surfed in boardshorts or bikinis!
For more info on the Surf Ranch click here.
BSR Surf Resort | PerfectSwell by American Wave Machines | Waco | Texas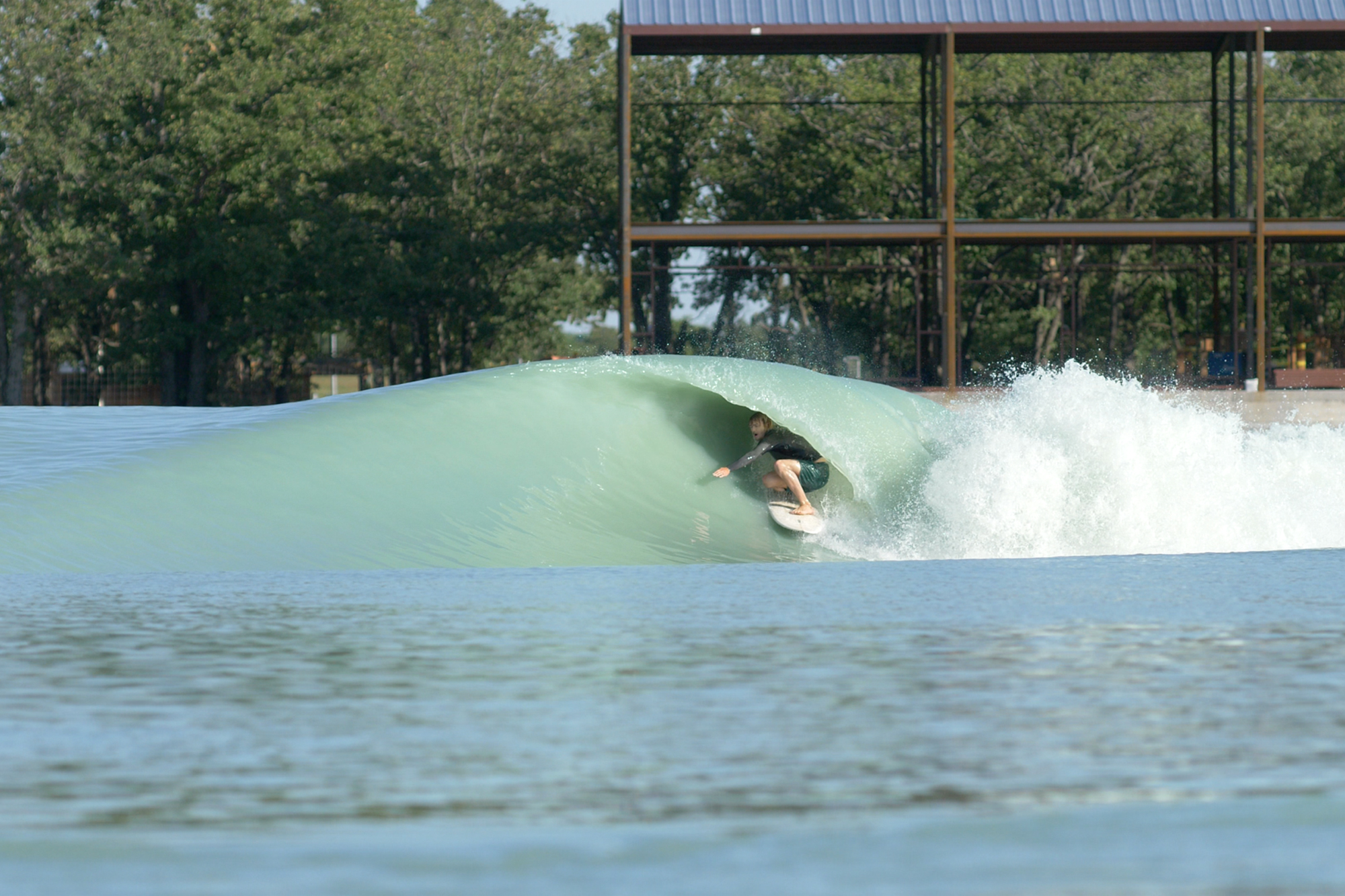 Hollow Kegs at BSR Surf resort Photo Credit Surfline.com
This artificial wave, positioned in Texas utilises PerfectSwell technology to mimic ocean waves. The pool produces a variety of wave shapes and is notorious for its hollow pits, wedging waves and crazy air sections.
For more info on the BSR Surf Resort click here!
URBNSURF | Melbourne | Australia
JS team riders surfing URBNSURF in Melbourne. Photo Credit JS industries
URBNSURF is located just a short distance from the Melbourne city centre and is extremely accessible from the Melbourne Airport. It's Australia's first surf park and has something to offer for everyone, whether you're a first timer or a world champ. The waves are consistent and always pumping! There's also plenty of other exciting activities to get involved with at URBNSURF.
For more info on the URBNSURF click here!
Share on Facebook